More of Don's
photo series.
Goldendale Observatory
Goldendale isn't exactly in the gorge, but a few miles north on Highway 97, that mostly spectacular highway that stretches from Weed, California, to Fairbanks, Alaska (although in recent years the numbers have been changed north of the Yukon border).
Mt. Adams was the only one of the snow-capped peaks clearly visible on this day.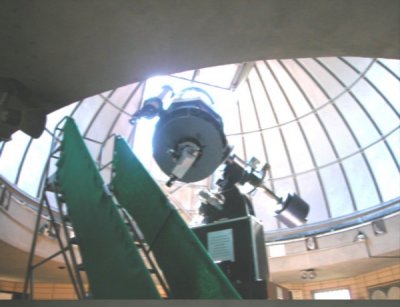 The main attraction here, at least for me, was the Goldendale Observatory, which has a 24" telescope. They offer tours in the afternoons and again at night. Since I was there in the afternoon, I took the afternoon tour, and got a peek at Venus, which looked about the size of a nickel. It appeared as a very bright, thin crescent.

I hate to admit it, but I hadn't realized you could see anything through a telescope but the moon and sun in the daytime; you can, though. Stars, planets, comets, maybe asteroids (dunno). This was a very interesting tour. I imagine the night tour is even better.



Goldendale Observatory is the fruition of the dream of four amateur astronomers, M. W. McConnell, O. W. VanderVeldon, John Marshall, and Don Connor. These four citizens of Vancouver, Washington, began constructing a 24-inch, Cassegrain reflecting telescope for Vancouver's Clark college. They ultimately donated the telescope to the town of Goldendale, which constructed observatory buildings on a hilltop north of Goldendale. Funding for construction was provided by donations, a federal grant and a bank loan. The observatory was dedicated as a public education center in 1973. Washington State Parks acquired the observatory in 1980.
--From Washington State Parks website.
Fourteen--find 'em--fourteen!-- sundials are scattered about the Observatory grounds. I found seven and got five fairly good photos of them: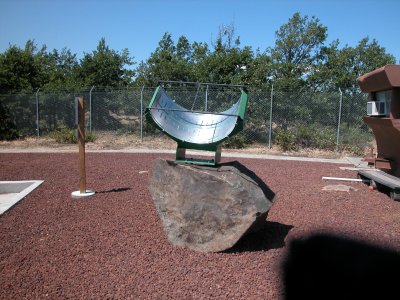 ©D.L. Mark 2004