More of Don's
photo series.
Presidents' Places: Franklin Delano Roosevelt
Always cheerful in public, President Franklin Delano Roosevelt greets his neighbors in Warm Springs, Georgia. The original photo is displayed in the museum there.
This photo from the National Park Service brochure on Hyde Park, New York, shows President Franklin D. Roosevelt's home as it was when his parents bought it and for years after.
Although the president's home is usually referred to as Hyde Park, it's actual name is "Springwood." These next few photos shows it as it was after extensive modification during Franklin's lifetime, and as it is now.
Springwood is a stately house indeed, but not ostentatious. Compared to the Vanderbuilt mansion up the road and others estates nearby, it's a simple country home, practically.
This front door welcomed many important people during the first half of the 20th Century; Franklin spent much time here during his presidency, visiting here about 200 times. Although his career necessitated him living elsewhere much of the time, he always thought of Hyde Park as his home.
In his adulthood, Franklin often fell asleep at night recalling himself sliding down this hill on his sled when he was a kid. It was one of the ways he dealt with his confinement to a wheelchair.
This is the front drive.
The two green chairs in the sitting room and library were Franklin's and his mother Sara's; Eleanor had to sit wherever she could. Sara was the dominant force in Franklin's life, and she always treated Eleanor as an extra.
Franklin's study. In college, FDR's nickname was "Feather Duster Roosevelt." He was not considered to be a brilliant man.
Franklin's childhood bedroom.
The entrance hall.
Bedroom Franklin used as an adult.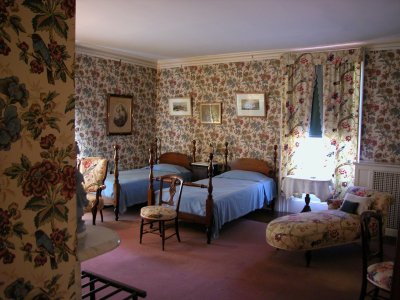 Springwood has several bedrooms; I can't keep it straight who slept where when.
This is the telephone at Hyde Park. It is pretty much hidden from the activities in the house. Imagine, the President of the United States having only one telephone in his home, and it hidden away. No wonder Franklin liked to spend time there. I would imagine the Secret Service had better communication devices, though, in their quarters elsewhere on the property.
One of the bathrooms.
After Franklin's bout with polio, he was unable to walk normally the rest of his life. He preferred a regular chair with wheels attached, rather than a commercially produced wheelchair.
He contracted polio while vacationing at the Roosevelt summer home on Campobello Island, which is off the coast of Maine, a part of New Brunswick, Canada. The grounds here are beautiful, and the back lawn goes down to the sea. After swimming with his kids, he took sick, and was bedridden for a long time. He recovered slowly, but never regained use of his legs. Sara, his mother, wanted him to retire and let her take care of him, but his wife Eleanor knew better than to allow that. She kept his career alive until he was able to make a comeback and become governor of New York.
What impressed me the most about Campobello was the size and lack of furnishings of the maid's room. The rest of the house was very comfortable looking and relatively spacious (Franklin and Eleanor had five children), and although not luxurious perhaps, certainly was not cheap. But the maid's room was tiny, her bed was a mere cot, and the little bit of furniture was not of high quality at all. The kitchen and laundry room were not what I would have expected, either.
The Walk of States leading up to the Little White House in Warm Springs, Georgia, features flags of all the states and D.C., plus stones from each state. Most of the stones are in the shape of the state; Vermont's is in the foreground. Shortly after contracting polio, a friend told Franklin about the healing waters of Warm Springs. Franklin gave the place a try, and found that the waters did indeed ease his pain and lift his spirits. He bought some property there and had a small house built for his use. He went swimming in the pools with handicapped children and adults from the area.
The Little White House complex has Eleanor's cabin on the left, Franklin's house in the middle, and Secret Service Headquarters on the right.
Franklin's house is small and cozy, only six rooms. It's easy to imagine why Franklin visited it whenever he could -- every two or three months until he died.
The front door.
Living room.
Dining room.
Kitchen.
Franklin's bedroom.
Eleanor's bedroom.
Guest bedroom.
Bathroom. The bathtub was moved away from the wall to allow easier access for Franklin; the toilet was raised up off the floor for Franklin's benefit also.
Franklin specified when he had the house built that insofar as possible no trees were to be removed, so the back yard would retain its natural growth. It's easy to imagine Franklin wheeling out here in the warm Georgia evening, his friends at his side, a glass of lemonade in his hand, swapping yarns and discussing his next political battle.
On April 12, 1945, here at Warm Springs, Franklin was having his portrait painted. Suddenly he put his hand to his head and said, "I have the most terrible headache." Those were his last words. The artist stopped painting. The president was dead. (Photo from "FDR's Little White House State Historic Site" brochure, produced by Georgia State Parks and Historic Sites.)
A bust of Franklin D. Roosevelt graces the entrance to the FDR Library and Museum at Hyde Park, New York.
In addition to the Library's exhaustive collection of papers for presidential historians and students, the Library and Museum holds many artifacts of Franklin and Eleanor's lives. This is the replica of the Oval Office as it was at Franklin's death.
The desk holds a collection of items which were on Franklin's desk at various times during his twelve years as president.
Franklin's cradle is there. . .
as is his hobby horse and many other items from his childhood.
At one point as a young man, Franklin took an interest in photography.
Always a lover of the sea, Franklin kept ship models around him at his homes.
The Great Depression was the event Franklin had to deal with in the 1930's.
Here is a campaign poster from the 1932 election.
Roosevelt often got bad press. Left: "Mother, Wilfred wrote a bad word." Top row: "Too Much Roosevelt," by Gerald L.K. Smith; cartoon: rich folk at party, "Come along, we're going to the Trans-Lux to hiss Roosevelt"; "Mother Goosevelt"; bottom row: An Alice in Wonderland drawing with Mad Hatter Roosevelt, captioned "A Mad Tea Party" written backwards; A Life Magazine (15¢!) portraying Eleanor posing as Franklin. I guess those were supposed to be funny back then.
Franklin loved dogs, none more than Fala. I recall during World War II, Fala accidentally got left behind somewhere; an army airplane was dispatched to fetch him. The Republicans made much of this, accusing the president of wasting army resources to rescue his dog. Roosevelt said, "Republicans may attack my policies, that's fine. They may attack me personally, I don't like it but it's their right. They may even attack my family; I don't think they should, but it's all part of the way politics works. But when they attack my little dog Fala, THAT'S GOING TOO FAR!" (Words to that effect.)
Franklin Delano Roosevelt and Anna Eleanor Roosevelt Roosevelt are buried here at Hyde Park in a beautiful garden setting.
The president and Eleanor's gravestone.
Comments.